Emanuel Joseph of North Rockland HS Named Gatorade NY Boys Track & Field Player of the Year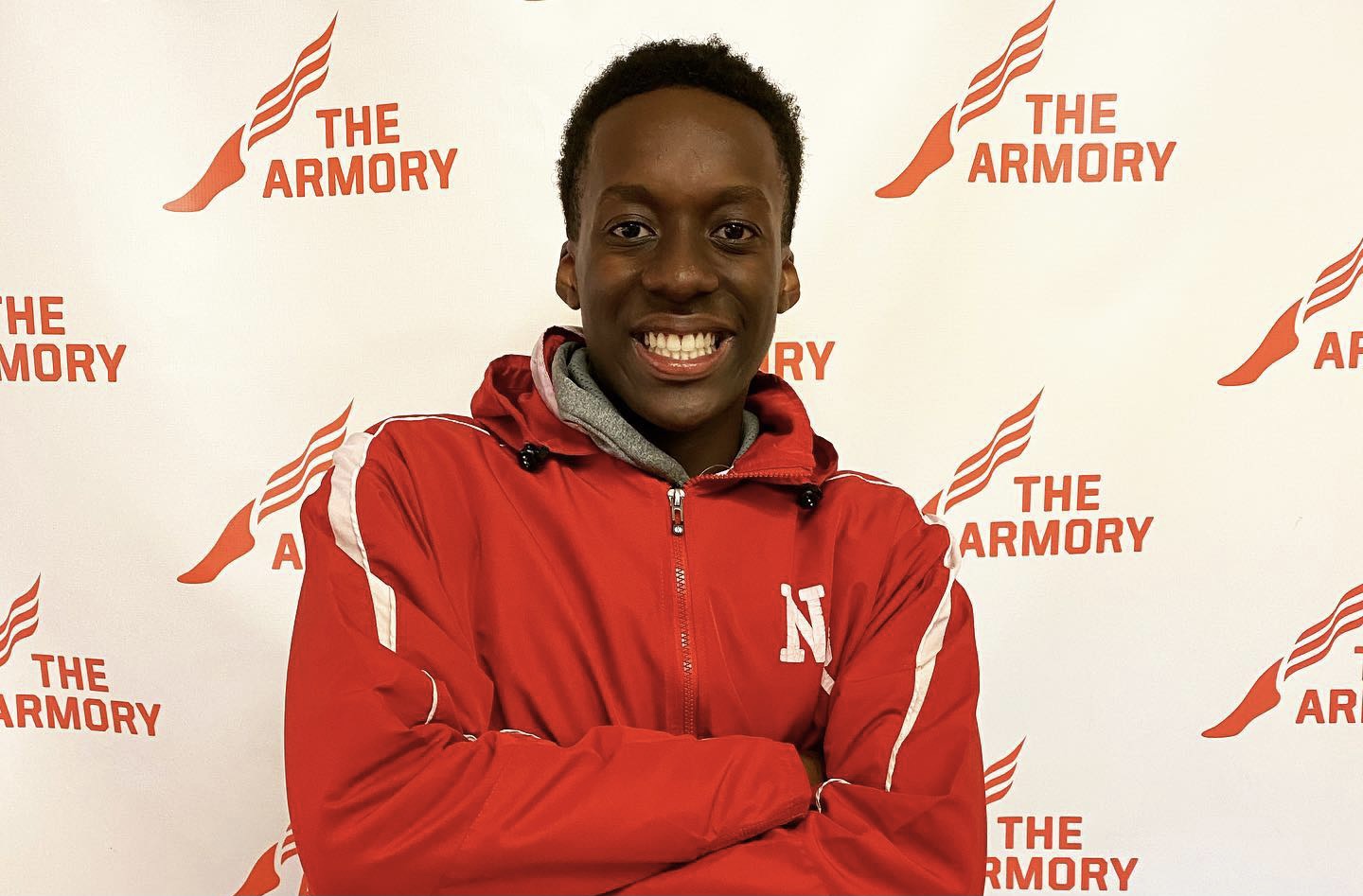 THIELLS, NY – In its 36th year of honoring the nation's best high school athletes, Gatorade today announced Emanuel Joseph of North Rockland High School as its 2020-21 Gatorade New York Boys Track & Field Player of the Year. Joseph is the first Gatorade New York Boys Track & Field Player of the Year to be chosen from North Rockland High School.
The award, which recognizes not only outstanding athletic excellence, but also high standards of academic achievement and exemplary character demonstrated on and off the field, distinguishes Joseph as New York's best high school boys track & field athlete. Now a finalist for the prestigious Gatorade National Boys Track & Field Player of the Year award to be announced in July, Joseph joins an elite alumni association of state award-winners in 12 sports, including Lolo Jones (1997-98, Roosevelt High School, Iowa), Allyson Felix (2002-03, Los Angeles Baptist High School,Calif.), Robert Griffin III (2006-07, Copperas Cove High School, Texas), Grant Fisher (2013-14 & 2014-15, Grand Blanc High School, Mich.) and Candace Hill (2014-15, Rockdale County High School, Ga.).
The 5-foot-10, 160-pound senior won the 110-meter high hurdles at the Section 1 championships this past season with a time of 13.91 seconds, which ranked as the nation's No. 22 performance among 2021 prep competitors. Joseph also won the 110 hurdles at the Loucks Games in 14.02, the second-fastest time ever recorded at that event. He holds the New York indoor state record in the 55 hurdles, having clocked a 7.21 in February, 2020.
Vice President of his school's chapter of the National Honor Society and a talented saxophonist, Joseph has served as a tutor for younger students and has volunteered locally on behalf of community clean-up initiatives. "Emanuel shows up every day, no questions asked, and displays a genuine love for the sport," said North Rockland coach Orlando Rivera.
"He's constantly watching instructional videos or his own film. He has full awareness of his competitors and their abilities, and he just loves competing."
Joseph has maintained an A average in the classroom. He has signed a National Letter of Intent to compete in track and field on scholarship at Syracuse University this fall.
Photo credit – @mikei19
Nyack HS RedHawks Football "Red Bandana Game" In Memory of Nyack Grad & 9/11 Hero Welles Crowther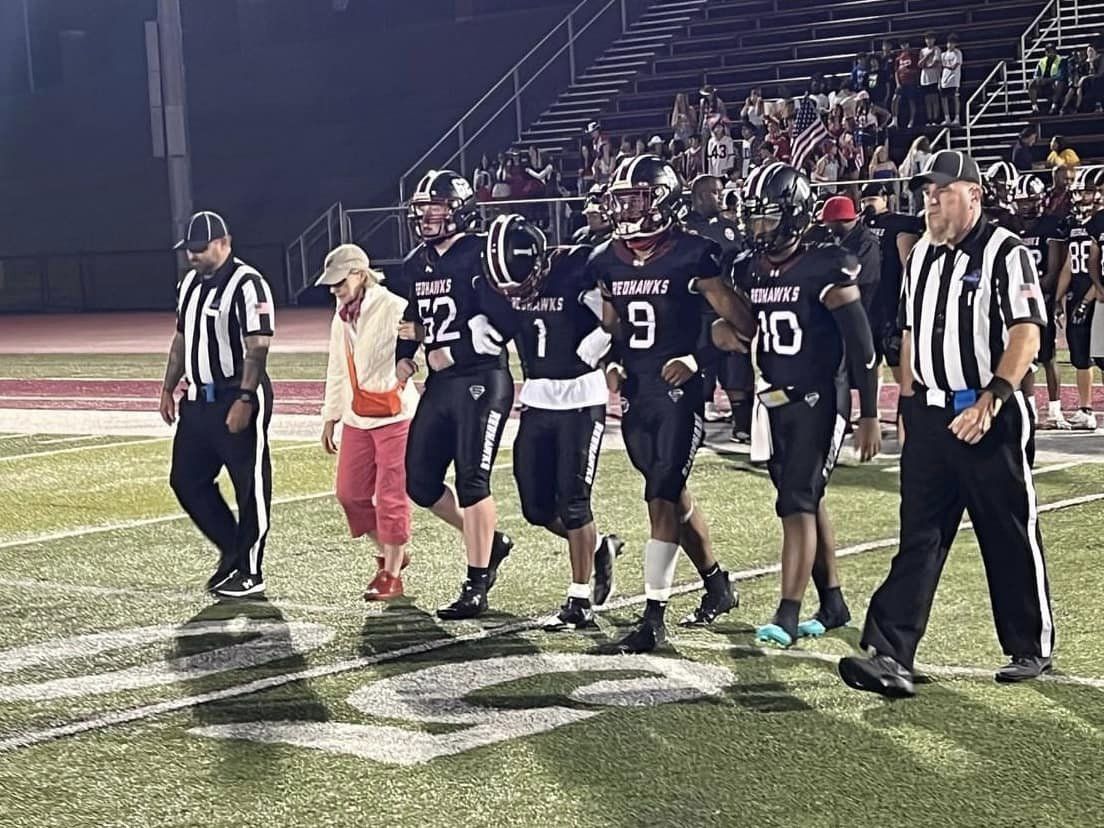 NYACK, NY – Allison Crowther, Welles' mother is pictured below walking out with the Nyack HS Captains for the coin toss. Nyack is playing Ardsley from Westchester.
When hijacked Flight 175 hit the World Trade Center's South Tower, people on the 78th floor sky lobby huddled together, frightened and confused. There was no escape as far as they could tell. Then, a man with a red bandana covering his nose and mouth suddenly appeared from the wreckage and smoke. He spoke in a calm voice and guided them to a stairway, leading them to safety. The man in the red bandana made three trips to the sky lobby, saving as many people as he could, until the burning building collapsed.
A few months after 9/11, stories from survivors surfaced about the mysterious man wearing the red bandana. When Alison Crowther read an article about the hero in the New York Times, she knew that man was her son, 24-year-old Welles Crowther. He had carried a red handkerchief since he was a boy. Welles Crowther worked as an equities trader and was also a volunteer firefighter.
Welles Crowther's bravery and heroism on 9/11 will never be forgotten. As survivor Judy Wein, who was rescued by Crowther notes, "People can live 100 years and not have the compassion, the wherewithal to do what he did."
Meet Destiny Lawrence, a Junior at Spring Valley HS and Member of the Varsity Football Team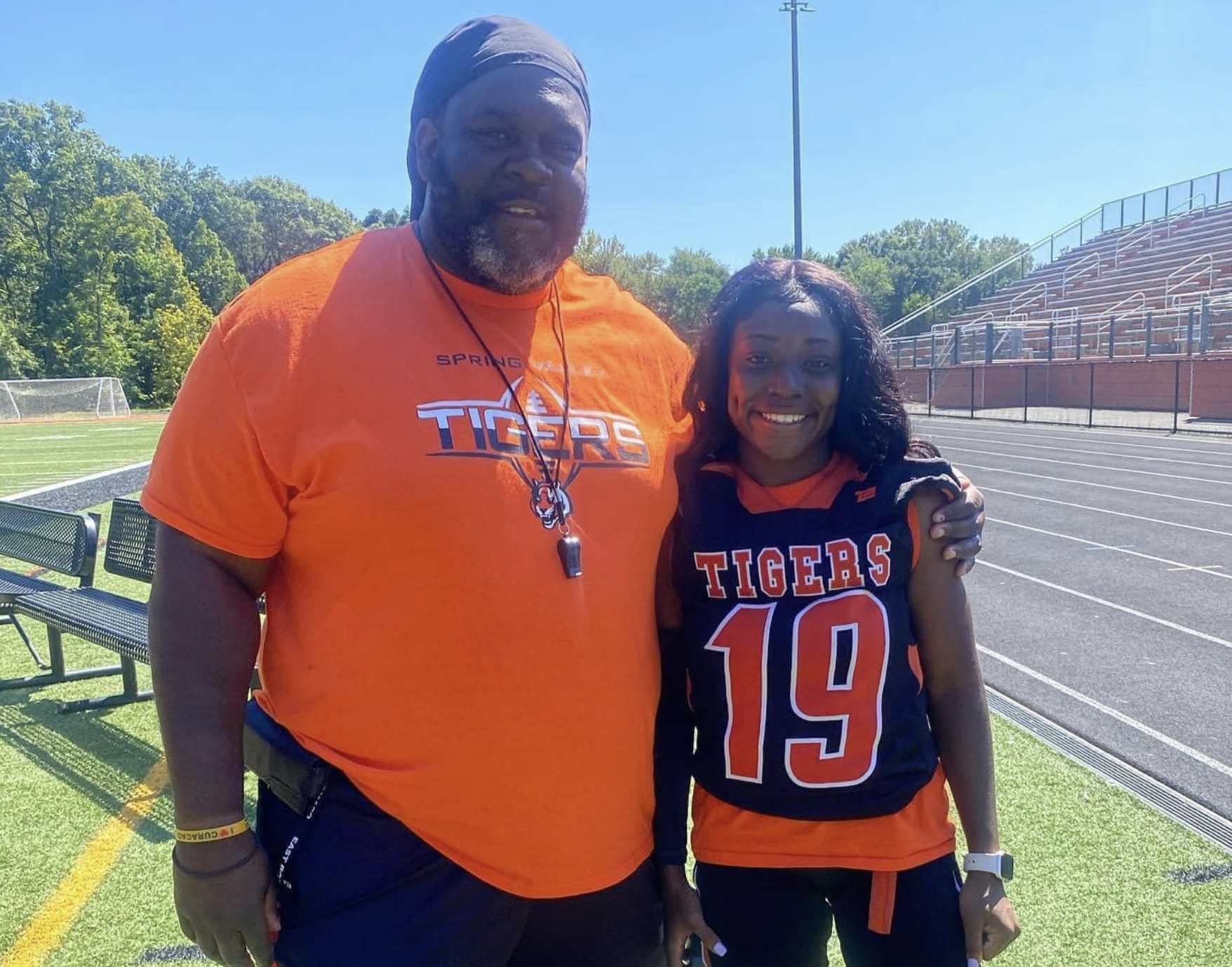 SPRING VALLEY, NY – Destiny is in her Junior year and plays Wide Receiver and Defense Back for the Tigers. She is also a member of the varsity track team. "Destiny is a fearless football player who continuously works hard" said SV HS Football Coach Andrew Delva.
Destiny is the only female member of a high school football team in Rockland County.
Good luck this season to Destiny and the Spring Valley HS Football team!