FBI Offering $10k Reward for Information Leading to the Arrest of Person Involved in 1987 Cold Case in the Village of Spring Valley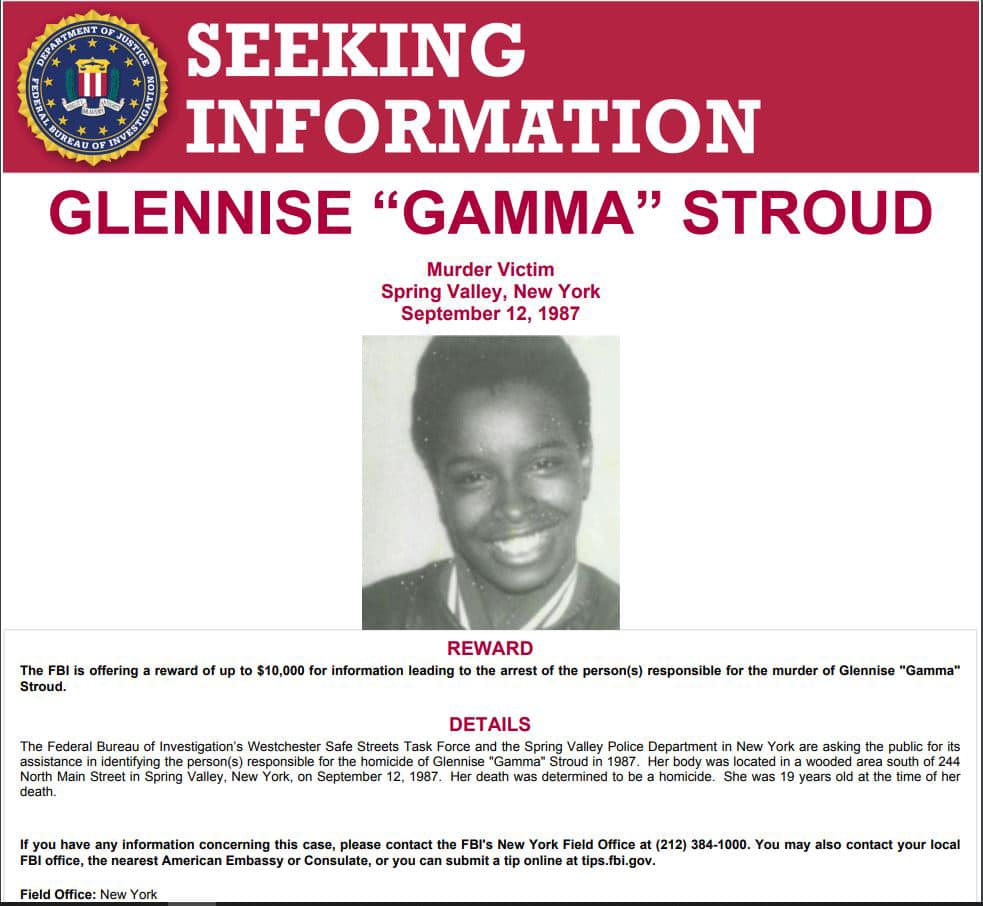 The Federal Bureau of Investigation's Westchester Safe Streets Task Force and the Spring Valley Police Department are asking the public for its assistance in identifying the person(s) responsible for the homicide of Glennise "Gamma" Stroud in 1987. Her body was located in a wooded area south of 244 North Main Street in Spring Valley. New York, on September 12, 1987. Her death was determined to be a homicide. She was 19 years old at the time of her death.
If you have any information concerning this case, please contact the FBI's New York Field Office at (212) 384-1000. You may also contact your local FBI office, the nearest American Embassy or Consulate, or you can submit a tip online at tips.fbi.gov.
Israeli Flag Outside Clarkstown Town Hall Stolen, Teen Arrested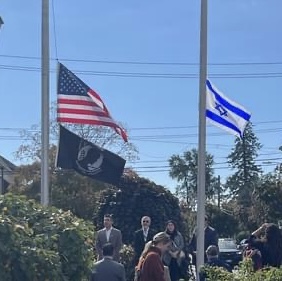 NEW CITY, NY – On Thursday, November 23, 2023 at 12:15pm, officers from the Clarkstown Police Department responded to Clarkstown Town Hall for reports that the Israeli flag had been stolen from the flag pole on which it was flying.
A witness stated to our dispatchers that an unknown male wearing dark clothing was observed ripping the Israeli flag from its flag pole and was running toward Rt. 304. A responding officer quickly located the above described male on Congers Rd., just east of Rt. 304. The male was attempting to remove his sweatshirt and conceal the flag in it when officers stopped to question him. The male was placed under arrest and transported to CPD headquarters where he was processed. The case is being handled by our JAB – Detectives as the arrestee is 15 years of age.
The Clarkstown Police Department is continuing to investigate all aspects of this crime, including but not limited to the possibility of this being a hate crime.
NYC Man Pleads Guilty Following Ongoing Rockland County DA Sting Operation Targeting Online Predators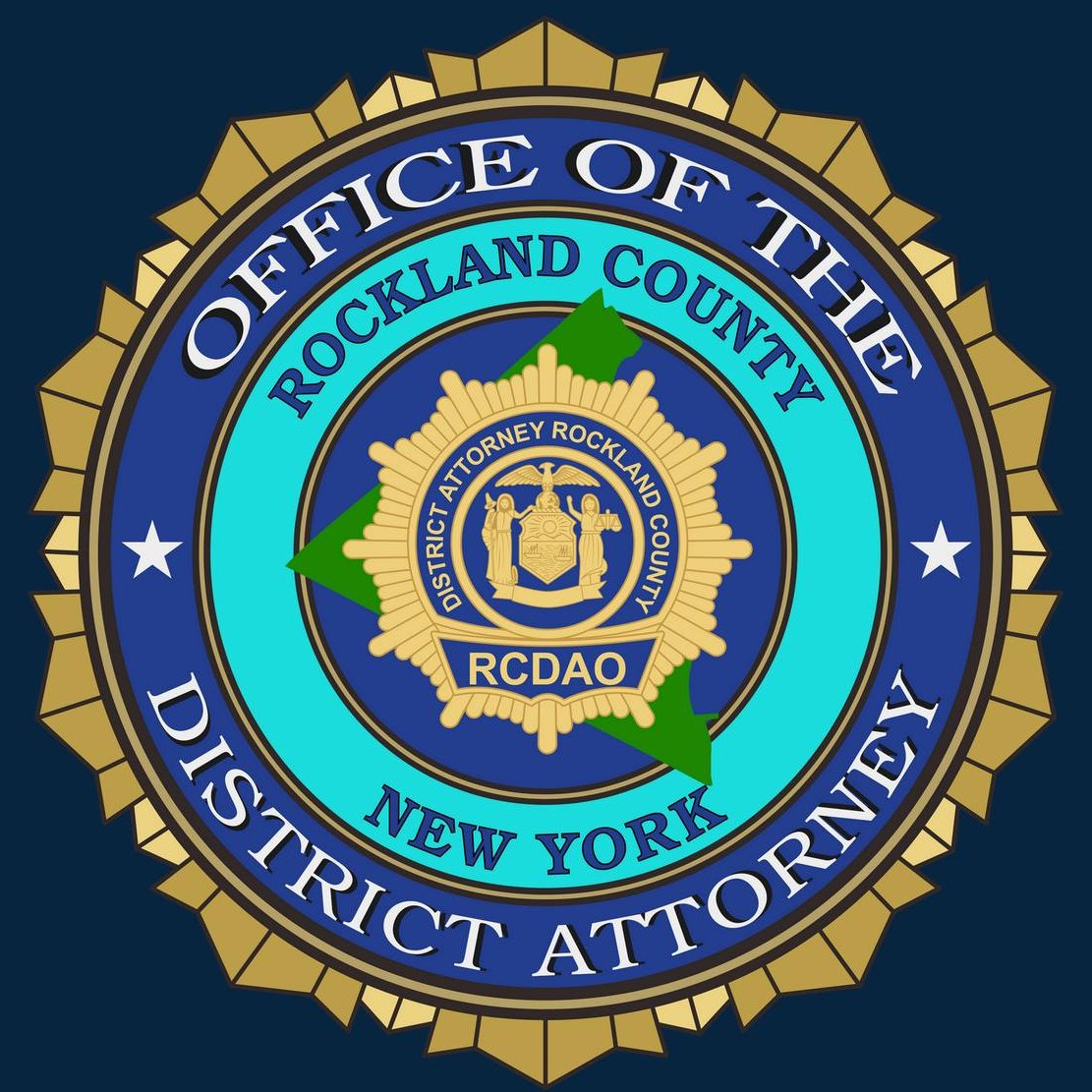 ROCKLAND COUNTY, NY – Rockland County District Attorney Thomas E. Walsh II announced today that Dylan Choe, a 24-year-old male from New York City has pleaded guilty to disseminating indecent material to minors in the first degree for attempting to meet a minor.
In January of 2023, Choe engaged in an online conversation with a Rockland County District Attorney's Office undercover investigator on a social media platform. The undercover investigator claimed to be a thirteen-year-old female from Rockland County. The defendant proceeded to have a sexually explicit conversation with the investigator, whom he thought was a minor. As conversations advanced, Choe made arrangements for the two to meet at a Rockland County hotel.
On January 19, 2023, Choe checked into a Rockland hotel and waited for the individual he believed to be a thirteen-year-old girl. Choe was arrested and charged with disseminating indecent materials to minors in the first degree.
Rockland County District Attorney Tom Walsh said, "Our office remains committed to ensuring the safety of innocent children in our community. This case is a clear warning to all that predatory behavior will be pursued relentlessly and brought to justice."
Today's announced guilty plea is the latest action in an ongoing cybercrime sting operation first launched by the Rockland County District Attorney's Office in 2022. Last December, Rockland County District Attorney's Office investigators arrested seven men for sex crimes following a separate operation called "Operation Catfish."
The Rockland County District Attorney's Office has been a member of the Internet Crimes Against Children (ICAC) since 2020. The ICAC is a national network of 61 coordinated task forces, representing over 5,400 federal, state, and local law enforcement, dedicated to investigating, prosecuting and developing effective responses to internet crimes against children.
The defendant pleaded guilty on October 16, 2023 before the Honorable Kevin F. Russo. Choe is scheduled to be sentenced on January 17, 2024. The case is being prosecuted by Assistant District Attorney Michael Delohery.