Update: Buffalo Bills safety Damar Hamlin is now back in New York.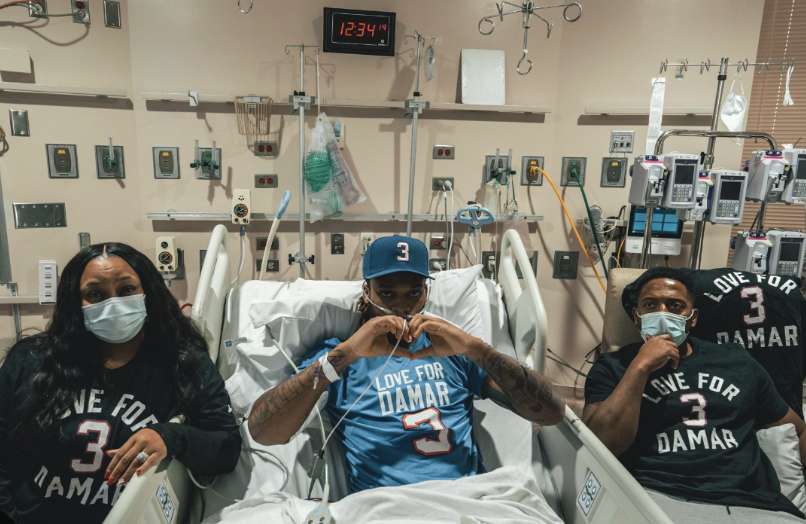 By Cara Murez HealthDay Reporter
TUESDAY, Jan. 10, 2023 (HealthDay News) – Buffalo Bills safety Damar Hamlin is now back in New York.
The football player who collapsed on the field after suffering cardiac arrest during a Monday night game in Cincinnati has been released from an Ohio hospital, and will continue his recovery in a Buffalo hospital, the Buffalo Bills football team posted on Twitter.
"Mr. Hamlin has been released and returned to Buffalo. I traveled with him to the airport this morning with our UC Health air care and mobile care crew, including teammates who were with us on the field when Mr. Hamlin collapsed," Dr. William Knight IV, a professor of emergency medicine at the University of Cincinnati College of Medicine and director of the Emergency Medicine MLP Program, told CBS News.
Hamlin, 24, collapsed after tackling Bengals receiver Tee Higgins. When Hamlin suddenly collapsed and fell backward, on-field medical staff swiftly gave him CPR before he was taken to Cincinnati Medical Center.
The game was postponed and later canceled. The Buffalo Bills played the New England Patriots last Sunday. They finished 13-3, which was a half-game behind Kansas City Chiefs for the AFC's No. 1 seed, CBS News reported. The Bills would have been No. 1 seed had they won the unfinished game against the Cincinnati Bengals.
The Bills will now play a wild-card round against the Miami Dolphins this coming Sunday.
The unusual circumstances that led to the Bills being one game short and having the No. 2 seed led to NFL owners agreeing to a neutral site if there is a Kansas City-Buffalo AFC title game, CBS News reported.
Copyright © 2023 HealthDay. All rights reserved.
Nyack HS RedHawks Football "Red Bandana Game" In Memory of Nyack Grad & 9/11 Hero Welles Crowther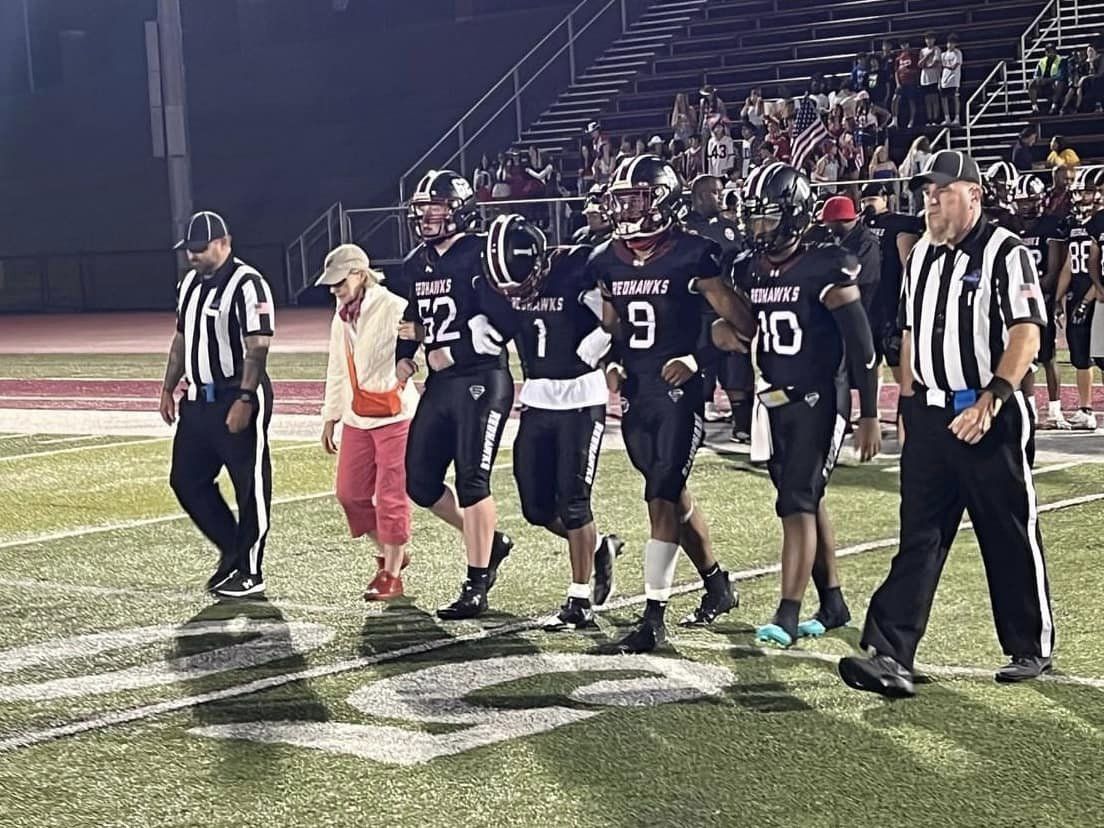 NYACK, NY – Allison Crowther, Welles' mother is pictured below walking out with the Nyack HS Captains for the coin toss. Nyack is playing Ardsley from Westchester.
When hijacked Flight 175 hit the World Trade Center's South Tower, people on the 78th floor sky lobby huddled together, frightened and confused. There was no escape as far as they could tell. Then, a man with a red bandana covering his nose and mouth suddenly appeared from the wreckage and smoke. He spoke in a calm voice and guided them to a stairway, leading them to safety. The man in the red bandana made three trips to the sky lobby, saving as many people as he could, until the burning building collapsed.
A few months after 9/11, stories from survivors surfaced about the mysterious man wearing the red bandana. When Alison Crowther read an article about the hero in the New York Times, she knew that man was her son, 24-year-old Welles Crowther. He had carried a red handkerchief since he was a boy. Welles Crowther worked as an equities trader and was also a volunteer firefighter.
Welles Crowther's bravery and heroism on 9/11 will never be forgotten. As survivor Judy Wein, who was rescued by Crowther notes, "People can live 100 years and not have the compassion, the wherewithal to do what he did."
Meet Destiny Lawrence, a Junior at Spring Valley HS and Member of the Varsity Football Team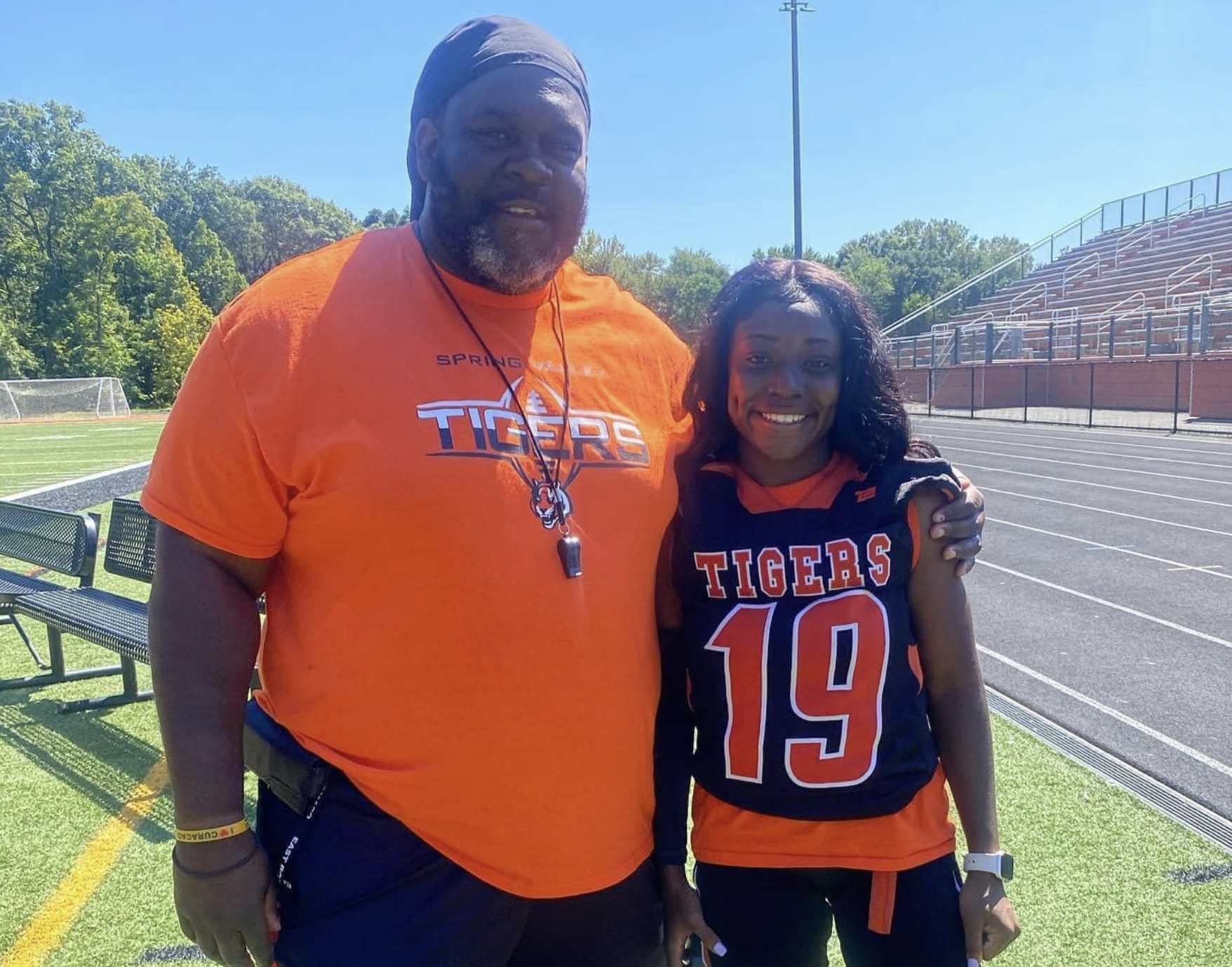 SPRING VALLEY, NY – Destiny is in her Junior year and plays Wide Receiver and Defense Back for the Tigers. She is also a member of the varsity track team. "Destiny is a fearless football player who continuously works hard" said SV HS Football Coach Andrew Delva.
Destiny is the only female member of a high school football team in Rockland County.
Good luck this season to Destiny and the Spring Valley HS Football team!