BOULDERS ACQUIRE LOCAL PRODUCT TOM WALRAVEN Pine Bush, NY, Native Expected to Solidify New York Infield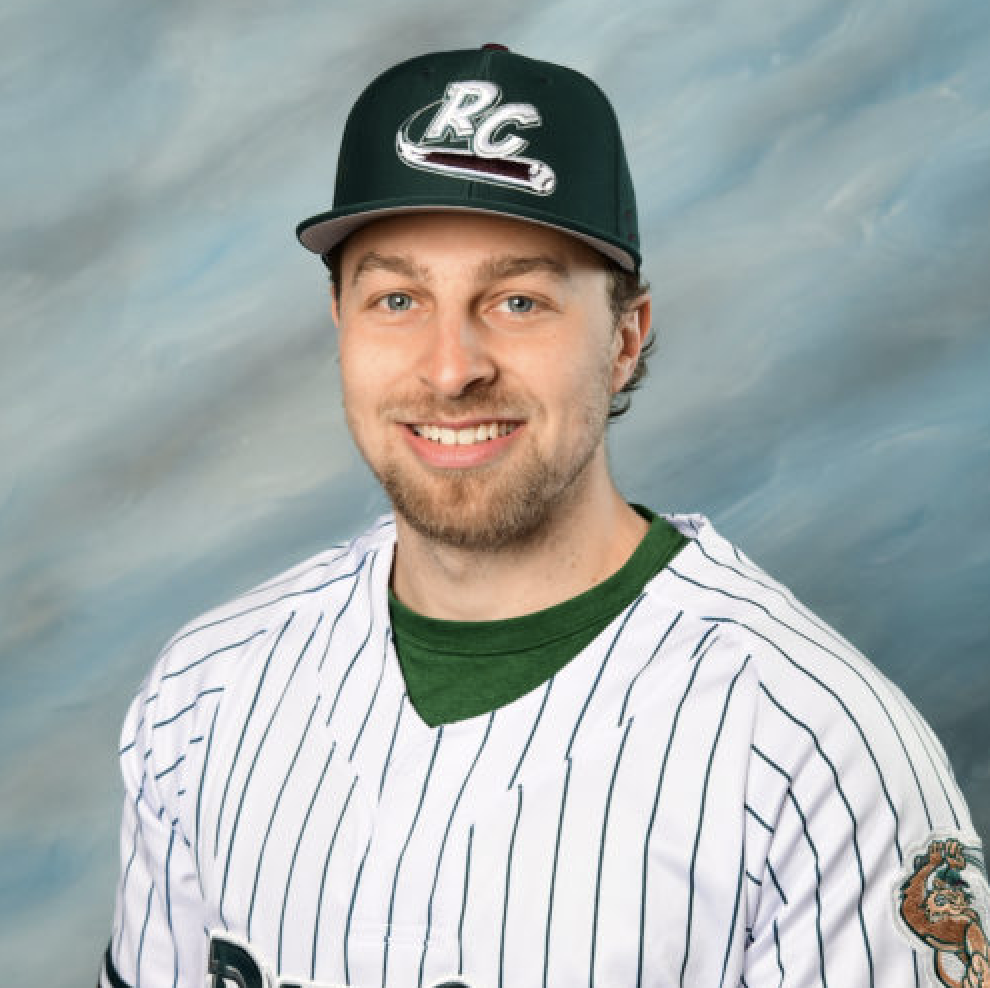 Rockland County, NY– The New York Boulders have acquired infielder Tom Walraven from the Gary SouthShore RailCats of the American Association in exchange for relief pitcher Matt Leon. A native of Pine Bush, NY, Walraven provides a solid bat and great versatility to the Boulders' quest to return to the Frontier League playoffs, regularly playing second base, shortstop, and third base during his career.
Walraven spent his first three professional seasons in Gary, Indiana, after an exceptional collegiate career at the University of New Haven. During his college days, Walraven posted an impressive .327 batting average with an .857 OPS and All Conference honors, providing a taste of what was to come.
His offensive production continued with the RailRiders, as he has now played 220 games at the professional level, batting .282 overall with an .807 OPS, while adding 28 homers and 132 RBI, adding strong glove work in committing just 10 errors over the past two seasons.
But according to New York Manager TJ Stanton – entering his third season – Walraven's addition is about much more than numbers. "With all he can do, I think his greatest impact might be in the clubhouse," said Stanton, whose Boulders ended the 2022 season with 12 consecutive wins to capture a Wildcard berth.
"When I was asking around, the reports were that his reputation is sterling. He's widely considered a leader that's tough as hell and plays the game as hard as anyone." That blends perfectly with the culture fostered by Stanton, but also by the New York Boulders organization as a whole.
"We've taken a lot of pride in bringing the best available professional talent from across the country to play at Clover Stadium," noted Team President and General Manager Shawn Reilly. "With that said, bringing in local talent has also been a focus, and Tom checks all the boxes of players who fit the Boulders mold."
Leon heads to the Midwest coming off a solid first season in Independent baseball, compiling a 5-1 record with a 1.80 ERA. Used primarily as a middle reliever, Leon earned more consequential innings during the final weeks of the 2022 season.
The Boulders' third season in the Frontier League will see the team play a 96-game schedule that features 51 home dates. Highlights of the 2023 home schedule include games on the Fourth of July holiday, Fathers' Day on June 18th; and nine Saturday home dates. Opening Day is set for May 11 as the long-time rival New Jersey Jackals pay a visit for a three game series, while the regular season will conclude on Sunday, Sept. 3, when they wrap up a three-game set at Clover Stadium with the Jackals.
Information regarding season tickets and packages for the Boulders' 2023 season is available by calling 845-364-0009 or sliding to www.NYBoulders.com.
Debuting in 1993, the Frontier League is the largest and longest-running of the modern independent leagues and features teams stretching from the Atlantic Ocean to the Mississippi River and from the Ohio River to the St. Lawrence Seaway.  In September of 2020, the Frontier League reached an agreement to become a "Partner League" with Major League Baseball.
As a "Partner League," the Frontier League and its teams will meet on a regular basis with MLB representatives to discuss joint marketing and promotional opportunities, as well as collaborate on initiatives to provide organized baseball to communities throughout the United States and Canada.
Nyack HS RedHawks Football "Red Bandana Game" In Memory of Nyack Grad & 9/11 Hero Welles Crowther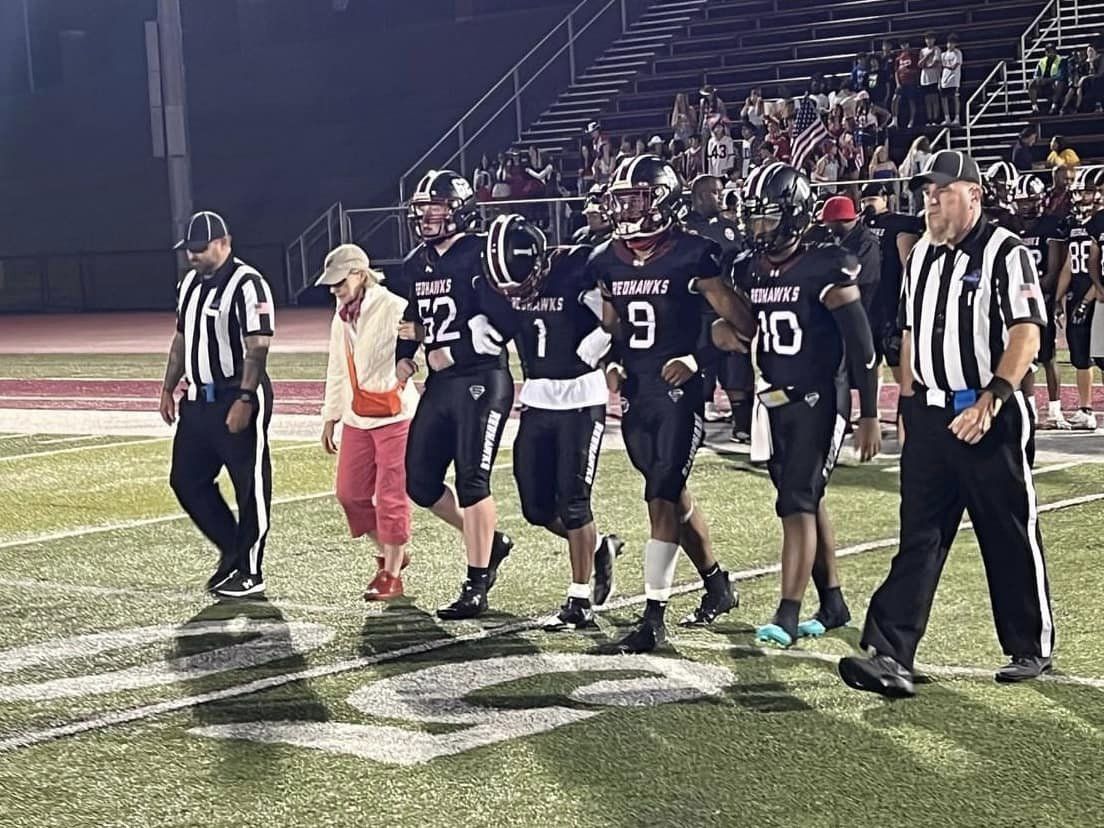 NYACK, NY – Allison Crowther, Welles' mother is pictured below walking out with the Nyack HS Captains for the coin toss. Nyack is playing Ardsley from Westchester.
When hijacked Flight 175 hit the World Trade Center's South Tower, people on the 78th floor sky lobby huddled together, frightened and confused. There was no escape as far as they could tell. Then, a man with a red bandana covering his nose and mouth suddenly appeared from the wreckage and smoke. He spoke in a calm voice and guided them to a stairway, leading them to safety. The man in the red bandana made three trips to the sky lobby, saving as many people as he could, until the burning building collapsed.
A few months after 9/11, stories from survivors surfaced about the mysterious man wearing the red bandana. When Alison Crowther read an article about the hero in the New York Times, she knew that man was her son, 24-year-old Welles Crowther. He had carried a red handkerchief since he was a boy. Welles Crowther worked as an equities trader and was also a volunteer firefighter.
Welles Crowther's bravery and heroism on 9/11 will never be forgotten. As survivor Judy Wein, who was rescued by Crowther notes, "People can live 100 years and not have the compassion, the wherewithal to do what he did."
Meet Destiny Lawrence, a Junior at Spring Valley HS and Member of the Varsity Football Team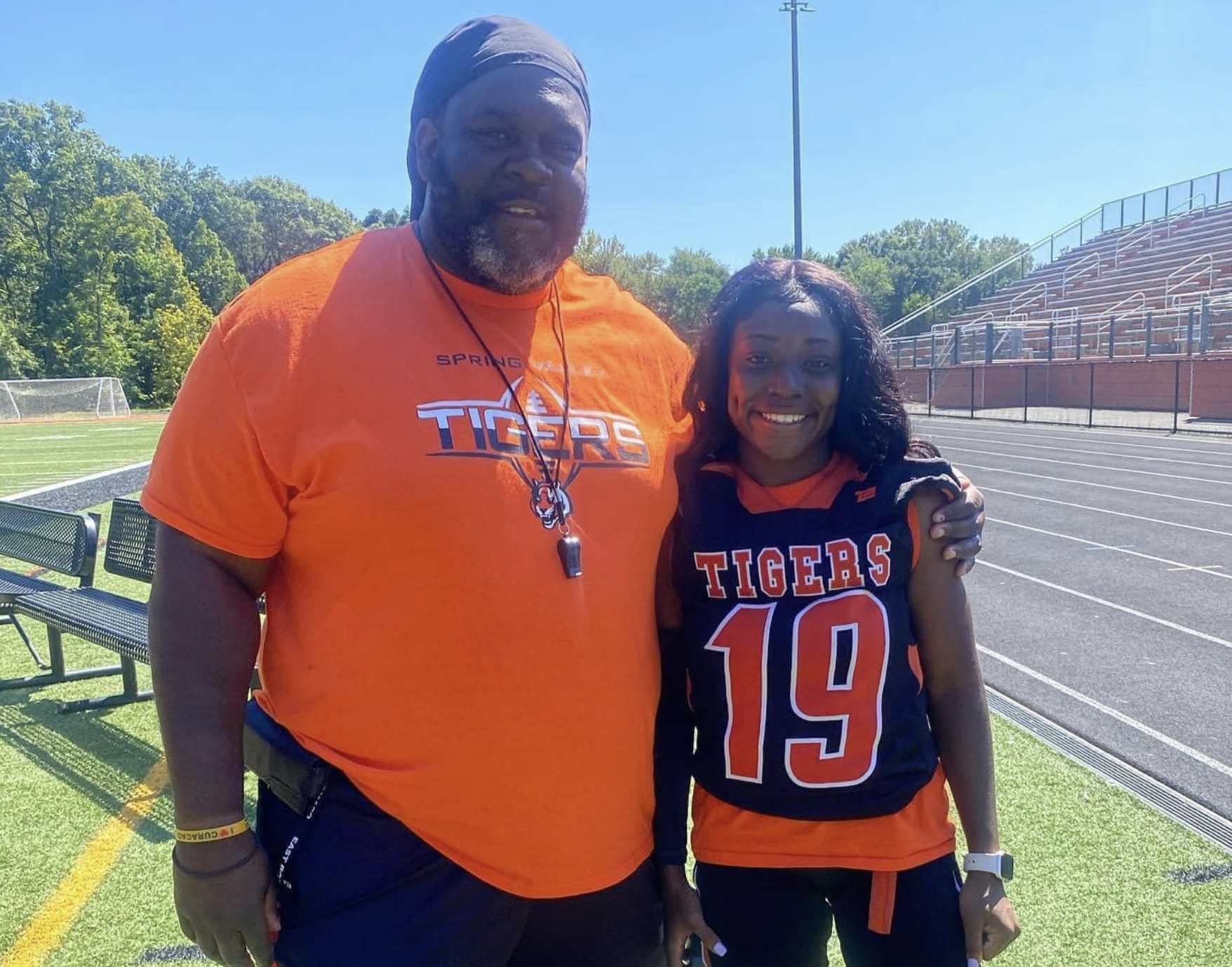 SPRING VALLEY, NY – Destiny is in her Junior year and plays Wide Receiver and Defense Back for the Tigers. She is also a member of the varsity track team. "Destiny is a fearless football player who continuously works hard" said SV HS Football Coach Andrew Delva.
Destiny is the only female member of a high school football team in Rockland County.
Good luck this season to Destiny and the Spring Valley HS Football team!